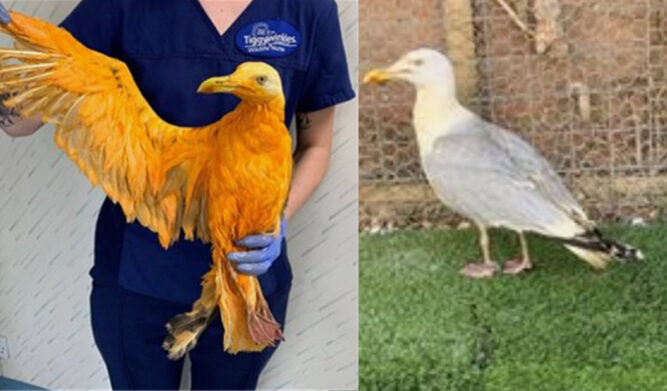 Recently, a mysterious orange bird was saved by good Samaritans and brought to an animal hospital. However, this "exotic" bird turned out to be your everyday ordinary seagull covered from head to toe in spices.
On July 1, 2019, the Tiggywinkles Wildlife Hospital in the U.K had a visit from an unusually vibrant avian patient. In a Facebook post, the hospital explained how members of the public rescued the bright orange bird from the side of a busy road because they noticed that it couldn't fly.
"We had no idea what to expect — and would never have guessed this!" the hospital wrote. The bird, as it turned out, was covered "in curry or turmeric," according to the hospital.
Aside from a bit of a "pungent" odor, the bird checked out as otherwise healthy. Named Vinny, after the Indian dish vindaloo, he was soon back on the road to being released into the wild after a prolonged gentle scrubbing in the bath.
Aside from being mildly annoyed by the bath, Vinny looks fabulous!
Oddly enough, this isn't the first time wildlife specialists had to treat a curry-soaked bird. In 2016, a seagull nicknamed Gullfrazie somehow fell into a vat of chicken tikka masala while scavaging for food at a factory in the U.K. According to the Guardian, a team of veterinary staff had to wash him off and was able to return the gull to his original colors. However, the curry smell did not go away so quickly.
"The thing that shocked us the most was the smell," veterinary nurse Lucy Kells said at the time. "He smelled amazing, he smelled really good."
We hope Vinney doesn't suffer the same turmeric-laced fate. Tiggywinkles (I just love that name) posted that the bird has sufficiently recovered enough for release "very soon."
I'm sure that's welcome news for Vinny, but perhaps not so pleasant news for any seagulls caught downwind of the poor bird for a while.
What do you think happened to Vinny? Give us your best theories in the comments section and be sure to share this story with friends and family.