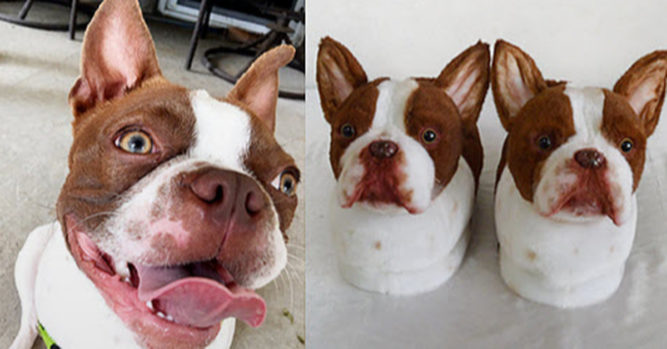 If you are one of those people who just can't get enough of your dog, you certainly are not alone. Many people feel that their dog is more than a family pet, they consider them a part of your family. If you have been bitten by the 'dog bug', you probably also understand exactly how much they can mean to you. They start by working their way into your family and before you know it, they become a part of our heart.
If you are someone who is constantly finding your dog under your feet, you are going to love this product. It actually allows you go get your dog under your feet (literally) but, of course, it isn't actually your dog. They are slippers that are made to look exactly like your dog and you are not going to believe how they look. They are made by Custom Clones and you are going to have to have a pair for yourself. The only problem is going to be trying to keep your dog from running off with them when they aren't on your feet.
These plush slippers will look just like your dog or cat. If you are concerned about quality, they do offer a 100% money back satisfaction guarantee. If the feedback (4.93 out of 5) is any indication, you won't have to worry about it.
Of course, you are going to have to bring your checkbook if you plan on getting a pair of slippers. The will set you back $199 per pair. Then again, if you really love your dog, you will be spending that anyway on treats and snacks.
Custom Clones does more than creates slippers, they can create a stuffed animal that looks just like your dog so you can cuddle with them when your dog is not in the mood to cuddle. They are a little pricier, at $249
View this post on Instagram
So what do you think? Are you ready to take the plunge? Many dog lovers already have and they are thrilled with it.