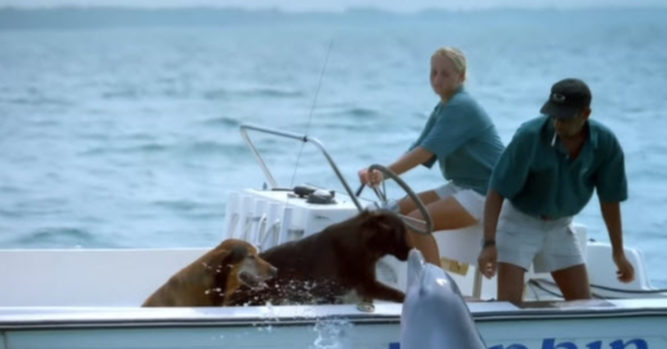 Most of us who have a pet in our home realize that they can be fun-loving and sometimes, they may do things that take us by surprise. We are accustomed to seeing it on a regular basis but you might be surprised to learn that it is not only domestic animals that can have that fun, it is also wild animals who have the opportunity to enjoy life as well. That is clearly seen in this video, which is perhaps the sweetest video that has ever been recorded. I have to tell you, if you watch the video, you should be prepared to have your heart melted.
It started out as a nice day on a boat. There were two dogs on board and it seemed as if they were having a good time with the humans. Many dogs love the water, so being out on the boat would be a dream come true for them. It is what happens from under the water, however, that really takes things to the next level. It is an encounter between a dolphin and one of the dogs.
It seems as if the dolphin spots the dogs on the boat and decides that it is going to go in and get a closer look. Perhaps it is wondering what it could be but it isn't long before the dolphin figures everything out. That is when the real magic begins. One of the dogs is closer to the edge of the boat and it is the recipient of the sweetest kiss from a new friend that you could possibly ever see. In fact, it even comes in for a second kiss because it seemed to love it so much.
Once the dolphin returns to the water, it does something that leaves everybody looking on, no doubt with their mouths hanging open. It is part of an IMAX classic that shows dolphins living in their natural habitats. The movie is 'Dolphins' by MacGillivray Freeman Films, who are the founders of One World. You can see it happening right before your eyes in the video below: