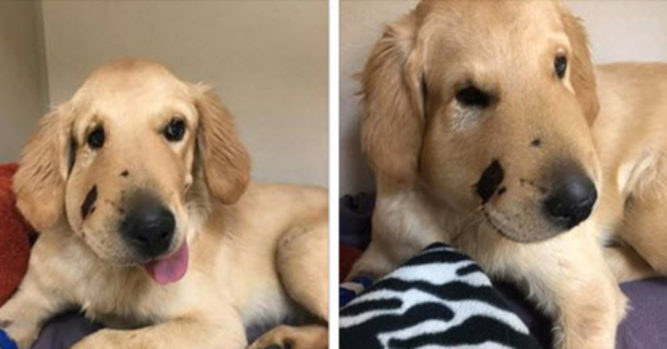 When you have a dog in the family, you already realize exactly how much they mean to their owners. They provide a level of unconditional love that human members of the family are often unable to provide. That is why we consider them to be such a close part of the family but sometimes, they go above and beyond when it comes to caring for their human masters. That was the experience of Paula Godwin, who has a six-month-old beautiful golden retriever named Todd.
Todd and Paula were out on a hike on June 29 in Arizona. Paula was watching where she was going but almost stepped on a rattlesnake before she realized what was happening. Paula didn't see the snake but Todd saw it immediately. His quick action ended up saving his owner from serious injury. He didn't even hesitate before he jumped right in front of Paula's legs, taking the bite rather than letting her take it. Suddenly, his beautiful, soft face was swelling up and a painful mark was left as a result of his loyalty.
Paula wrote about the walk on Facebook and she talked about her sweet hero with emotion in her words:
"So this morning was up bright and early to go on a hike on 7 th street carefree . It was a beautiful morning but as we were walking down the hill I literally almost stepped on a mf rattlesnake.
But my hero of a puppy Todd saved me He jumped right in front of my leg were I surely would have got bit. This is what a hero looks like please say a little prayer for my sweet hero."
We are happy to report that Todd made a full recovery after he spent 12 hours at the Anthem Animal Hospital. The veterinarians gave him an anti-venom treatment.
He also quickly became an Internet celebrity and was featured on the WeRateDogs Twitter page with the 15/10!
Many people are now able to recognize the devotion that Todd has for Paula. He was given the very first Milk-Bone Dog of the Year Honor award at the Streamy Awards.
The Streamy Awards celebrate with an online video and this includes the contributions that are made by our four-legged friends.
The Streamy Awards website says the following:
"Dogs do more for us every day, so why aren't they honored in the same way that humans are? Milk-Bone believes it's time to change that.
For the first-time ever the Streamys, which historically only honors humans and their accomplishments, will award one dog who has done more with the Milk-Bone Dog of the Year Honor."
People voted online to award Todd but he had some competition on his hands. It included Louboutina, a dog who loves to give hugs, and Pierre, a fancy-dressed therapy dog.
This is Todd. He saved his human from a rattlesnake yesterday. A true h*ckin hero. He's expected to make a full recovery and has been rewarded our fifth ever 15/10 pic.twitter.com/TsS6isI0Ew

— WeRateDogs™ (@dog_rates) July 1, 2018
be still my heart ?? @guskenworthy AND Todd the Hero Dog backstage at the #streamys. Congrats to Todd for winning the @Milkbone Dog of the Year Honor! #STREAMYSxMILKBONE pic.twitter.com/QqICaFH87I

— Streamy Awards (@streamys) October 23, 2018
Paula had the following to say:
"We are ecstatic because this is the first-ever Milk-Bone honor, so everyone is going to remember Todd the Hero Dog. When he got bit, we were able to start a fundraiser to help other pets — raising money for dogs who can't afford anti-venom.
There's a lot of people out there who can't afford the $500 dose and their pets die because of it. I have another golden retriever named Copper, like Copper and Todd from Fox and the Hound. Todd's story was a big highlight for us as a family."
Todd was given a trophy and a customized piece of art to mark his achievement.