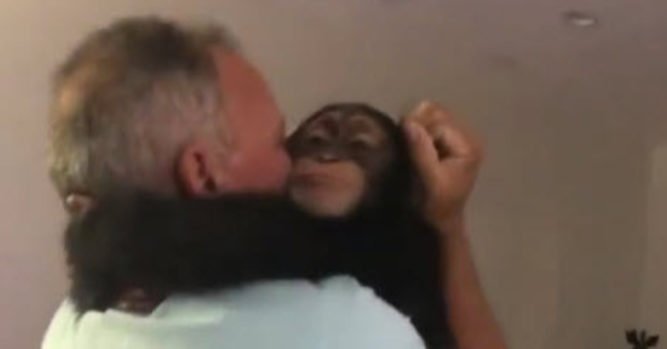 Although there are many things we may enjoy seeing online, there is nothing quite like a good reunion video. Some of them involve the reunion of a military personnel with their family and others may involve a long-lost dog being reunited with his master. In any case, it is something that can fill us with emotion because we can imagine how the individuals in the video are feeling at that time.
This is a video that is certainly going to touch your heart. It is an old friendship that is reunited between the chimp and his old caretakers. When he sees his caretakers he is so excited that he actually does a spit take, just like out of a comedy scene! Although this is something that may be funny in a movie, it is quite touching when you see it done in real life and without any ulterior motive.
This rescue chimp is named Limbani and he was born with pneumonia. Unfortunately, his mother rejected him but he was kept by the Zoological Wildlife Foundation, so he was well cared for.
When he sees his former caretakers, he is so surprised that he actually spits his drink out!
"Tania and her husband, Jorge, who helped us raise and take on full around the clock care for the first few months of his life. Limbani, who was born with pneumonia was rejected by the mother. Without human intervention and modern medicine, he wouldn't be here today. Tania and Jorge can go without seeing him for a couple months and his reaction is always the same."
Seeing something like this just simply fills my heart to the brim with all of the good feelings in life. It may seem like such a small thing for a chimp to see his old caregiver but you can really tell that it is very important to him.
You can watch the moment and the adorable reunion in this video:
Facebook video may take a moment to load: