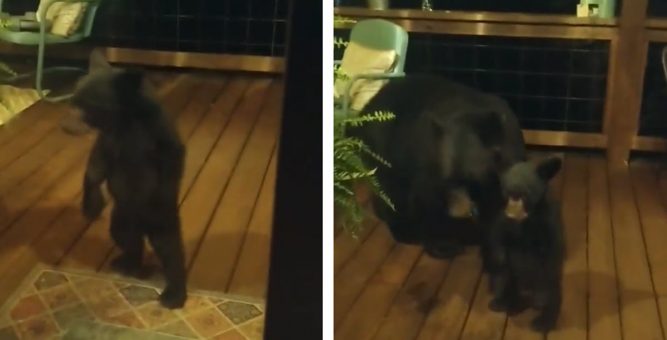 Early one morning, a woman named Sumer Walser Williams and her husband were awakened by their barking dog, who was alarmed because there was a visitor on the porch of their home in North Carolina. The Williams had a Peeping Tom, but they couldn't even be mad about it. As it turns out, their dog was going nuts barking at an adorable baby bear who was on their porch. "We heard clanging outside our bedroom window that backs up to our front deck," Williams told The Dodo. "Sure enough, when I put the front deck lights on, there was a cub at the front door." Meanwhile, their pooch was going absolutely nuts.
As Sumer and her husband watched in astonishment, the baby bear, no doubt curious about the barking dog, got up on his hind legs and stood upright as he peeked through their window. I've read something recently that said that bears stand up on their hind legs when they're curious. Well, this little guy was plainly curious and he made the most adorable sounds as he looked in the window. He seemed surprised and it was like he was saying "Oh! What is this! Oh! Oh!" He was just so dang cute. However, one onlooker was not delighted with what was happening: the curious little bear's mama.
The couple in the bedroom was delighted (although their dog clearly wasn't), but Mama Bear was very displeased. She came onto the deck and grabbed her little one when she caught him doing what she apparently considers to be a huge "no-no." I can just hear her saying, "Don't stare at the humans, sweetie, it's rude. Now come on over here now!" However, little bear wasn't really in a rush to go. The mama bear tried to figure out how to get him up over the deck's railing, but she quickly abandoned that idea since the baby bear was too big for her to do that. Fortunately, the little one snapped into line fairly quickly and when Mama turned to walk down the steps, the little bear followed along obediently.
Sumer totally understood exactly what was happening because she also has kids. "It was so relatable. That's my daily experience with my own children," Sumer said. "I think that's what made the video so great. It showed that some aspects of parenting are uniform across species." She added that she could just hear the mama bear saying, "I have told you a hundred times not to bother people." Watch this adorable video below. Be sure to have sound on because the baby bares funny little "Oh!" sounds are so cute.
https://youtu.be/XSQPEHS0pzYWe had some visitors last night. We woke up to their pool party, bird seed snacking, and ~12 foot deck climbing. I think the cub wanted to come inside to hang out, but his momma wasn't in the mood to deal with his mischievousness at 4am. I thought the momma would come from around the walkway to find him, I never thought she'd scale our front deck. 😧 Lil' cub popped the girls' blowup pool and they didn't even bother to clean up their mess on their way out. Guess I should have gotten the fire pit going for them if I were a good host? 🤦 Happy Monday. ❤️😬Mom's reaction in my head played out as "Let's go, I have told you a hundred times not to bother people while we're raiding their house for goodies. We have to be silent. I've told you this. Why can't you seem to listen? I had to climb 12 feet up a pole to rescue your little butt. Get off their deck now." 😂https://youtu.be/XSQPEHS0pzY

Posted by Sumer Walser Williams on Monday, August 10, 2020