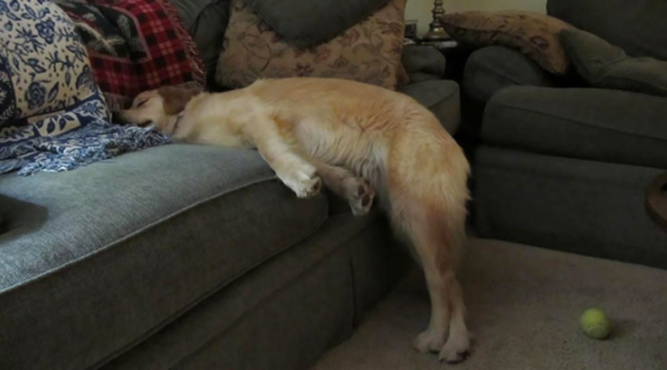 Many dog owners have seen their pups worn out but still trying to stay awake while desperately struggling to stay alert as those heavy eyelids start closing. As the blinks slow down, a bit longer and longer, your pup's head slowly droops maybe a tongue comes rolling out of their mouth. And then finally, plop. Your pup's down for the count.
As a consequence of a dog's ability to fall asleep anywhere, they can usually be found in some pretty crazy positions. Sometimes, they leave us scratching our heads thinking, "how could that possibly be comfortable?" As someone who can't even sleep on an airplane, I envy this talent!
Here's a list of 20 pups who prove that dogs are the true masters of nap time (sorry kitties).
#1. This pup just doesn't understand gravity, or maybe gravity doesn't understand him?
#2. Talk about one happy napping puppy!
#3. Good luck trying to figure this dog out…
#4. Warm paws are the best!
#5. Talk about perfect pair. This cool pup even naps in shades!
#6. They told him he could not sleep on the couch…
#7. He's neck-deep in some nap.
#8. Did we mention dogs can nap anywhere?
#9. Is she dreaming she's a pretzel?
#10. Hyper-extension Power Mode activated!
#11. This boxer's head over hills into some serious napping.
#12. Weee! Nap time!
#13. Snoorf!
#14. He's safe!
#15. This Frenchie is too precious!
#16. This Wiener dog falls asleep while he's begging
#17. Murph the Tetris dog.
#18. Touchdown!
#19. Sometimes you just have to let sleeping dogs lie…
#20. This pup naps at attention.
What did you think of these adorable sleeping pups? Which ones were your favorites? Let us know in the comments section, and please be sure to share this cute pups with your friends and family.
Source: Bored Panda